Personal profile
Personal Statement
Craig W. Roberts obtained a B.Sc. (Hons) in Parasitology from the University of Glasgow and then completed a PhD in Immunology at the University of Strathclyde. During his PhD he studied Immunological control of Toxoplasma gondii infection.  A Fulbright Scholarship allowed him to spend 2 years in the USA where he continued his work on this protozoan parasite at the University of Chicago. He is currently active in 3 broad areas: (i) the interaction of Toxoplasma gondii with it's host and how this knowledge can be harnessed to effectively control or vaccinate against this parasite. (ii) the influence of sex and pregnancy associated hormones on immunity (iii) identification, validation and exploitation of antimicrobial targets in Acanthamoeba.
Craig Roberts contributes to teaching undergraduate and postgraduate degrees in SIPBS and oversees the MSc in Biomedical Science and MSc in Biotechnology.
Research Interests
Research Summary

Craig W. Roberts is currently active in 3 main areas of research: 

1. Drug target identification and validation in Toxoplasma gondii


2. Immunological control of toxoplasmosis 


3. Antimicrobial Agents for treatment of Acanthamoeba infection and improved contact lens solutions


Opportunities exist for Post Graduate Research in all areas.  Further details are given bellow.

Applications should be made through the Graduate School http://spider.science.strath.ac.uk/sipbs/graduate_school.htm

Details of Research 

1. Drug target identification and validation in Toxoplasma gondii

 

Apicomplexan parasites [Toxoplasma gondii, Plasmodium (species), Eimeria (species), Thieleria (species), Babesia (species) and Cryptosporidium parvum] are of medical and veterinary importance. Current antimicrobial agents for the treatment of diseases caused by apicomplexans are inadequate due to toxicity, intolerance, allergy, non-specificity and the development of parasite drug resistance. In addition, certain lifecycle stages of Apicomplexan parasites are unaffected by current treatments which therefore allow a reservoir of disease to persist within the infected host. Current research efforts focus on target identification and validation specifically in Toxoplasma gondii.

Toxoplasma gondii
T. gondii has a global distribution and is responsible for neurological and ocular disease most commonly in immunosuppressed individuals. Infection is generally initiated through ingestion of the bradyzoite stage that is found within cysts in the meat of infected animals or the oocyst stage released in the feces of infected cats. If a woman is infected for the first time during pregnancy congenital transmission can occur. Depending on the trimester in pregnancy that this occurs the outcome can range from abortion or severe neurological disease to mild apparently asymptomatic disease. While the severity of infection decreases, the likelihood of transmission increases in each trimester. Initial infection is characterized by the presence of fast-replicating tachyzoites. After 10–14 days post infection, tachyzoites differentiate into bradyzoites that replicate more slowly and form cysts in tissues throughout the body. These are long-lived and not associated with disease. However, in people with immunodeficiencies, such as AIDS or malignancies, rupture of tissue cysts and the transformation of bradyzoites to tachyzoites results in disease reactivation. Congenitally infected individuals are also at risk of repeated disease reactivation, most notably in their brain and eyes, although the reason(s) for this has not been established. This process can be mimicked using in vitro and in vivo models. The inability of current, available treatments to eliminate tissue cysts highlights a continued inadequacy in existing chemotherapeutic agents. Interconversion between tachyzoites and bradyzoites not only plays a pivotal role in establishing a chronic infection, but it is also responsible for disease reactivation. Understanding this process could help in designing new chemotherapeutic agents or immunological therapies capable of eliminating tissue cysts.

 
(i) The Shikimate pathway
We have recently demonstrated that the shikimate pathway occurs in Apicomplexan parasites. This pathway is known to also be present in fungi, plants and bacteria, but is notably absent from mammals. This makes it an attractive target for anti-microbial agents. Inhibition of this pathway by n-phosphonomethyl glycine (NPMG), a specific inhibitor of EPSP synthase restricts the growth of T. gondii, P. falciparum and C. parvum in vitro. NPMG was demonstrated to work in synergy with conventional anti-folate drugs such as pyrimethamine and sulphadiazine. The presence of this pathway was further confirmed in 3 members of this phylum (T. gondii, P. vivax and P. falciparum) by identifying and sequencing their chorismate synthase genes (AroC), [Accession U93689, AF451277 and AF008549]. These studies provide definitive evidence that the shikimate pathway occurs in Apicomplexan parasite. Ongoing studies aim to further characterise the shikimate pathway and its potential as a drug target in apicomplexans. In addition we are investigating the evolutionary origin of the shikimate pathway through a phylogentic approach. Results indicate that the shikimate pathway is an ancient eukaryotic innovation that has been selectively lost replaced or retained in different taxa. 
(ii) Fatty acid synthesis
The enzymes of fatty acid biosynthesis are organised differently according to organism. Mammalian enzymes are part of a multi-domain polypeptide which includes acyl carrier protein (ACP), acetyl-CoA-ACP transacylase (ACAT), malonyl-CoA-ACP transacylase (MCAT), ß-ketoacyl-ACP synthase (ß-KAS), ß-ketoacyl-ACP reductase (ß-KAS), ß-hydroxyacyl-ACP dehydrase (ß-HAD) and enoyl-ACP reductase (ENR). This is termed type I fatty acid synthesis. Contrasting with this, the cytosolic bacterial enzymes and platidic enzymes in plants are discrete mono-functional polypeptides. This is termed type II fatty acid synthesis. Differences between these enzymes are the basis of the selectivity of a number of antibiotics including thiolactomycin and triclosan. Recent studies have demonstrated that triclosan is capable of inhibiting the in vitro growth of T. gondii and P. falciparum.
2. Immunological control of toxoplasmosis 
(i) The role of sex and pregnancy associated hormones on the development and maintenance of immunity to T. gondii
We continue to investigate the role of sex and pregnancy associated hormones in influencing the immune system and the development and maintenance of immunity to T. gondii This is of particular interest due to the ability of this parasite to cause congenital disease as levels of many sex hormones, most notably estrogens and progesterone, are vastly increased during pregnancy. The normal physiological role of these changes would appear to be to protect the developing fetus from the mother's immune response. This is achieved largely through induction of a Th2 biased immune system. However, although this hormonal manipulation of the immune system serves to prevent rejection of the fetus, it also has an important impact on systemic immunity and two important consequences for parasitic infection. Firstly, pregnancy will favor the survival of parasites such as T. gondii that is normally controlled by a type-1 response, Secondly, parasitic infections such as T. gondii that induce a strong type 1 response will adversely affect pregnancy. Both of these scenarios have been demonstrated with the protozoan parasites T. gondi.
(ii) Vaccine Design for T. gondii
The ability a natural infection in humans with T. gondii to induce a level of immunity capable of preventing congenital transmission demonstrates the feasibility of a vaccine. We have developed a number of models of disease, including a congenital model that facilitates the evaluation of vaccine constructs. Current research aims to identify vaccine candidates using DNA vaccine technology.
(iii) Control of parasite multiplication, immunopathology and immune privilege
Immunological control of Toxoplasma gondii is complex and involves almost all facets of the immune response. Understanding the pathogenesis of this disease is key to the development of vaccines and immuno -therapeuatic agents. Current research is investigating the role of the immune response in controlling parasite multiplication and in causing immunopathology especially at immune privileged sites such as the eye and brain. Results indicate that successful resolution of disease is a delicate balance of proinflammatory mechanisms and anti-inflammatory mechanisms. Furthermore, T. gondii would appear to disrupt aspects of immune privilege, such as the low levels of MHC class I molecules in the retina while accentuating other aspects such the constitutive expression of TGF-β.
3. Antimicrobial Agents for treatment of Acanthamoeba infection and improved contact lens solutions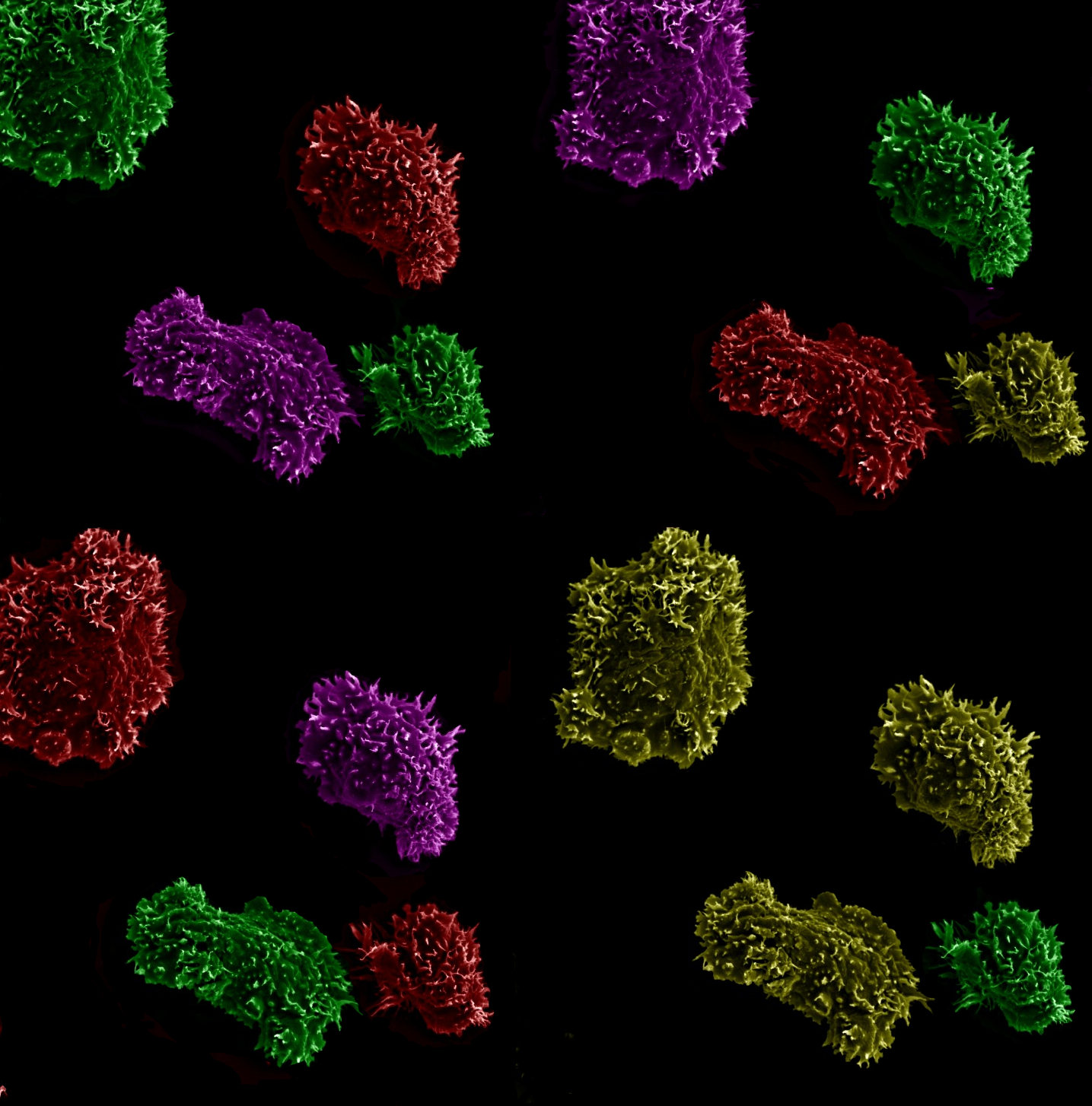 Acanthamoeba (species) are an important cause of microbial keratitis that may cause severe ocular inflammation and visual loss. The first cases were recognised in 1973, but the disease remained very rare until the 1980s when an increase in incidence mainly associated with contact lens wear was reported. Acanthamoeba are ubiquitous free-living protozoa, which normally exist in water. Contact lens rinsing and soaking solutions prepared with non-sterile water is the usual source of infection. Medical cure is difficult and relies on early diagnosis and treatment with multiple anti-microbial agents. A corneal graft may be required due to the extensive destruction caused by the parasite. Furthermore, the ability of the trophozoite to from cysts stages that are resistant to chemotherapy reduces the chances of a medical cure. Sadly, in many cases the donor cornea is subject to infection as the disease reactivates. Acanthamoeba keratitis has now been recognised world-wide and there is no evidence to suggest that the incidence of this disease is declining. 
New, more effective therapeutic strategies capable of completely eliminating infection are required. We have recently developed a 96 well plate colourimetric assay to measure the efficacy of antimicrobials against Acanthamoebaand current research concentrates on target identification and validation for new antimicrobials. 
In addition contact lens solutions currently available do not reliably kill Acanthamoeba. Rcently there have been a number of outbreaks of infection that have led to the recall of certain particularly dangerous contact lens solutions. In recognition of the growing importance of Acanthamoeba infection in contact lens wearers, the FDA convened a workshop on 'Microbiological Testing of Contact Lens Care Products' (January 23, 2009), with many stakeholders in the industry. As a result of this, ISO 14729, the international standard used to test the antimicrobial ability of contact lens solutions, is currently being revised to include Acanthamoeba as a test pathogen. Further work concentrates on developing new more effective contact lens solutions.
Opportunities for Post Graduate Research
Projects are available (subject to funding) in the above areas for students wishing to study towards a Ph.D. Applications should be submitted through the Graduate School.
Publications
Books Edited
1. Sex Hormones and Immunity to Infection (2009) ed. Klein, S., & ROBERTS, C.W. Springer. (ISBN 978-3-642-02154-1) 
online version: 
http://www.springerlink.com/content/978-3-642-02154-1
hard copy:
http://www.springer.com/biomed/immunology/book/978-3-642-02154-1
Expertise related to UN Sustainable Development Goals
In 2015, UN member states agreed to 17 global Sustainable Development Goals (SDGs) to end poverty, protect the planet and ensure prosperity for all. This person's work contributes towards the following SDG(s):
Keywords
parasitology

immunology

endocrinology

pregnancy

Toxoplasma

Acanthamoeba
Fingerprint
Dive into the research topics where Craig Roberts is active. These topic labels come from the works of this person. Together they form a unique fingerprint.
Collaborations and top research areas from the last five years
Recent external collaboration on country/territory level. Dive into details by clicking on the dots or